What our clients think...
Portal call centres have called upon Data Cabling Services to provide for the last 7 years a robust network infrastructure which has been tailor made to suit their 32,000 sq ft premises in Uddingston Blue chip clients which currently include BskyB and previously Royal Bank of Scotland , EON and B&Q. More recently a bespoke comms room was designed and built to host 7 x fully cabled cabinets hosting a total of over 2,000 network points. The comms room was fitted with dual redundancy power , backed up with a 100kva UPS and generator , this is protected with an automated fire extinguishant system. Water leak detection and temperature sensors were fitted to alert the 24 hour security on site. An ongoing maintenance / health check is regularly carried out to maintain the integrity of the network.
Karen Martin, Portal FM Site Account Manager
Current systems are Cat 5e , Cat 6 and Cat 6a (10gig).
You would expect that a model with such a degree of tailoring and occupier friendliness such as ourselves would command a significant, perhaps unaffordable, premium. However, this was helped by Data Cabling Services who have demonstrated excellence in delivery and the right ethos that such a solution is feasible with building infrastructure tailor made & design! Although Data Cabling Services core business is networking infrastructure they can also provide project management on bespoke project works with better cost effectiveness than if we had have undertaken the project ourselves."Data Cabling services have been there throughout to effect the changes that the business has needed to make and remove much of the pain, inconvenience and delays that we would otherwise have faced keeping the promise to our customers"

BIP Solutions – Medius Building , Digital Media Quarter

BIP moved into their purpose built building in Glasgow's digital media quarter and their core business covers Business Intelligence, eSourcing, IT Services & Solutions and Marketing Services. Data Cabling Services were awarded the contract to install over 1,500 Cat 5e / 6 outlets and over 250 fully serviced floorboxes delivering power, data and telephony to the desk.
2 bespoke comms rooms were fitted out to encompass the need for hosting servers on a large scale. The newly designed state of the art building had over 40 km of cable installed in the 8 week contract which was delivered a week early. Network connectivity encompassed the CCTV and automated entry turnstiles.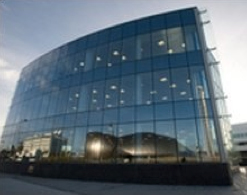 Steven McWilliams-IT Operations Manager
"Data Cabling Services completed the fit out of the networking infrastructure on time and on budget. They worked closely with my internal Network team throughout the project providing guidance and assistance when required. All work was finished to a very high standard and showed that not only do Data Cabling Services work professionally they also take great pride in the work that they do."
For more information please contact: sales@dcsnet.co.uk