Electrical
DCS can offer various electrical services ranging from motion activated lighting, clean power to the desk and dedicated power supplies for IT rooms.
Distribution boards - upgrades and replacements.
Lighting – Energy efficient PIR controlled.
Additional circuits / alterations.
UPS systems – 30 to 300 KVA.
Generators 5KW to 2000KW
Replacement LED lighting reducing costs by 95%
Energy efficiency consultancy.
Carbon Reduction Commitment (CRC) consultancy.
Our work is carried out within the latest NICEIC regulations
Our knowledge of products can ensure that energy efficiency is at its best and will reduce your annual energy spend.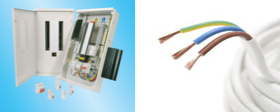 For more information please contact sales@dcsnet.co.uk